The Outside Inn Company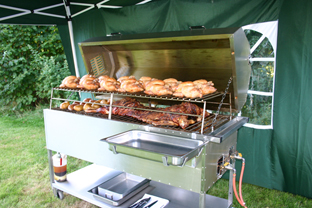 George Ellis has been catering for 25 years and is also and apprentice-served engineer. With the experience of engineering and catering combined, he has devleoped a roaster which is second to none.
Made from high-grade stainless steel, this amazing roaster is extremely efficient, economical and safe to use. It can take a 75 kilo pig; up to 30 chickens as well as lambs and baked potatoes. It cooks to perfection and keeps food up to temperature ready for serving straight from the roaster.
Find out more about how The Outside Inn Company can offer a turnkey solution to your event!